Guest Post by David Ward-Penny
What exactly is Partially Addressed Mail?
Partially Addressed Mail is an advertising mail product that identifies customers using sophisticated targeting options without the use of personalised data. It enables easy customer acquisition for your business without the use of personal data, by targeting households at a postcode level.
Such items contain no personal information about the recipient, the mailings will be partially addressed to the 'occupant,' 'homeowner' or whatever you want to choose. For example, if you operate in the Leisure & Fitness sector you could utilise the title of 'Fitness Fanatic.'
Partially Addressed Mail is perfect for businesses who wish to target smaller geographical areas without the cost of acquiring personal cold data for households or individuals.
Partially Addressed Mail can identify new customers for you in two ways:
By topping up. By identifying where your existing customers live, new ones can be sourced in the same area at postcode level.
By using Look-a-Likes. By analysing your current customer geo-demographics, similar target clients can be sourced nationwide at a postcode level.
By topping up existing data and combining with look-a-like profiles you have a wealth of potential new customers available to you.Some benefits of partially addressed mail:
It is more targeted and refined than a door drop campaign
It is simple to implement as a stand-alone campaign or as a bolt-on to existing campaigns
It is simple to suppress existing customer data
You can profile to street and household level to find more look-a-likes
Can be significantly cheaper than buying cold acquisition data
Because it is targeted and looks like a letter, rather than a piece of unaddressed mail, it is valued by recipients.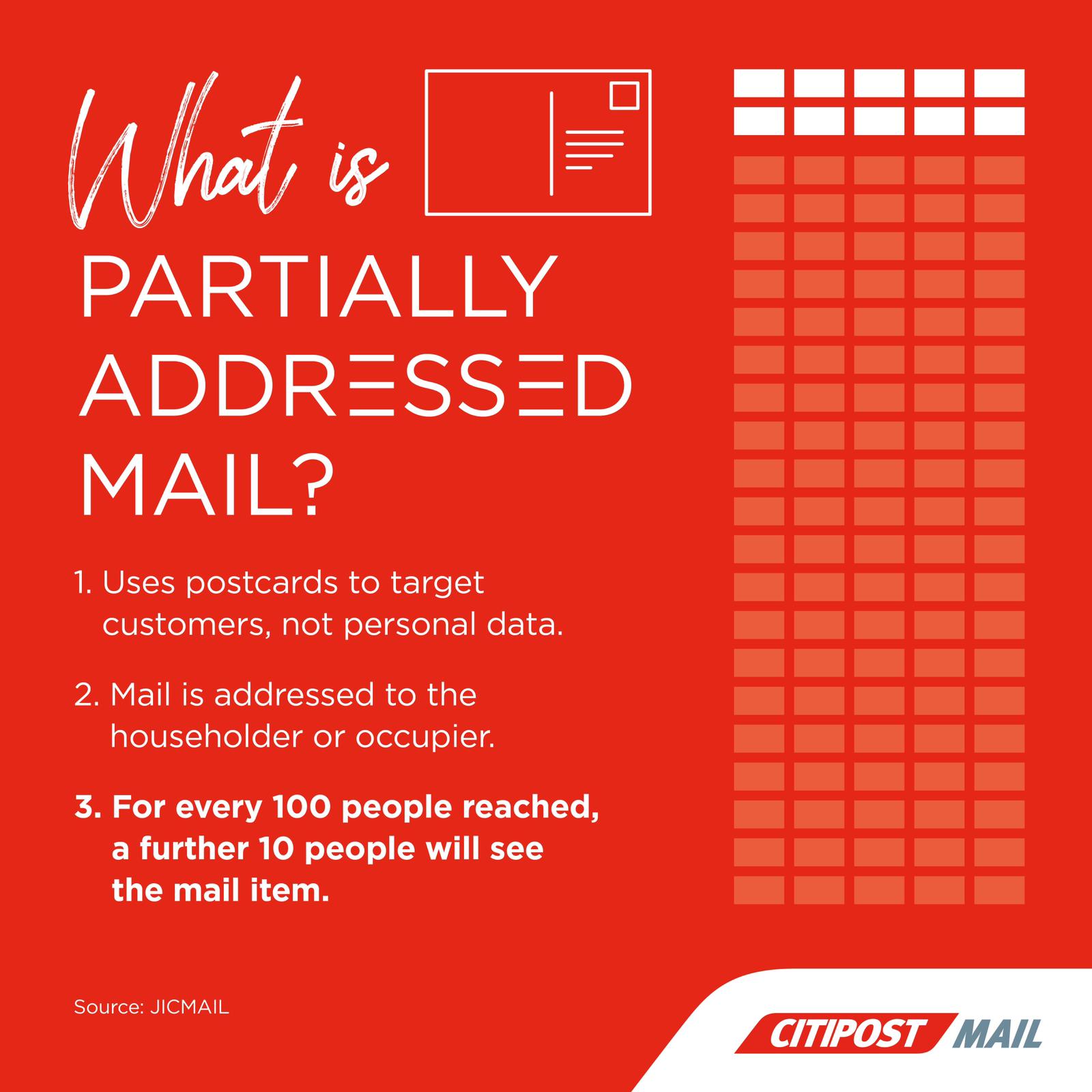 If you've already tested door drop but found the scope of recipients too wide, Partially Addressed Mail could help narrow your search. With the introduction of GDPR it has now become a viable alternative compared to using cold data – especially if you've gone as far as your own data will allow. Indeed, recent research by JICMail finds that for every 100 people reached through PAM, an additional 10 people will see a mail item. This 1.10 item reach figure compares with 1.13 for direct mail and 1.05 for door drops, and so it sits nicely between the two in terms of response rates.
Furthermore, partially addressed items are interacted with almost four times on average over a 28-day period, with a frequency of 3.97. This compared with 4.17 for direct mail and 2.76 for door drops.
Partially addressed items were also found to live in the home for 7.2 days compared with 7.69 for direct mail and 5.5 for door drops.
Interestingly, over a quarter of partially PAM items were found to prompt a commercial action, compared to 31 per cent of direct mail and 10 per cent of door drops. This shows that targeting by postcode is incredibly effective.
It was also found that PAM is effective at driving online traffic, with 14 per cent visiting the sender's website, and with 13 per cent discussing the mail item with someone else.
Anecdotally, existing mail clients tend to use it as a supplementary medium to their addressed and unaddressed campaigns. However, increasingly we are seeing new clients trialling it as a standalone mail channel, integrating it with digital and broadcast media.
For more information about partially addressed mail and how we can help please don't hesitate to contact me here: