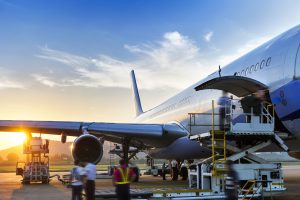 The effects of the pandemic hit many industries hard, none more so than the scale of disruption for businesses that rely on imports and exports as part of their supply chains. Major international transport disruption heavily affected the time for movement of goods across borders, and navigating routes required adjustments and solutions on an almost daily basis. Shifting cargo to road or sea from air, using transit countries, or finding freight space on remaining active air connections became a constant puzzle for people to solve.
The same issues applied to senders of international direct mail. Thousands of companies that use physical mail to drive their e-commerce sales found delays and inflated costs to be prohibitive to their operations, and many switched their marketing activity online. This resulted in creating another problem – a huge saturation of digital marketing communications reducing the effectiveness of message penetration and a reduction in ROI.
This switch was relatively short-lived, with business owners quickly realising that advertising mail was key to promoting their products and services. However, as different countries responded in a variety of different ways to the pandemic, the movement of mail across borders remained problematic. "It was a real headache for most of our global clients," explains Paul Taylor, Director of International at Citipost Mail. "No sooner had we unearthed new lanes via transit countries, we found things had changed again due to tighter controls linked to individual country lockdown policies for example."
Such multi-routing of mail consignments has become the norm for the foreseeable future, and Citipost have adopted this complex but cost-effective approach on behalf their customers. "We still have a traditional Global service similar to the one we offered our clients before the pandemic hit, but now we are able to offer a multi-route, slower but lower cost service for clients who don't mind the application of multiple indicias," explains Taylor. "This way, our clients can still get their sales messages across to potential customers without paying hugely inflated postage prices, provided they build in a little extra planning time to their campaigns. Meanwhile, we can still offer clients a premium service for those time-critical campaigns with shorter lead times. It's important to us that we can provide a number of solutions in an ever-adapting landscape, so we make sure we pass operational updates to clients on a regular basis."
It's not clear anymore what 'back to normal' means for many industries, but as new normals form around the globe, it is clear that forward-thinking companies such as Citipost Mail have found ways to offer customers much-needed services, in this case through proactive relationships with the major European post offices operating out of the UK. Since the start of the pandemic, the e-commerce industry exploded as a way to service a world in lockdown. Citipost Mail's focus remains to pass critical marketing messages to customers via printed mail, and they manage that very well.
You can find out more about the Global offerings from Citipost Mail here.