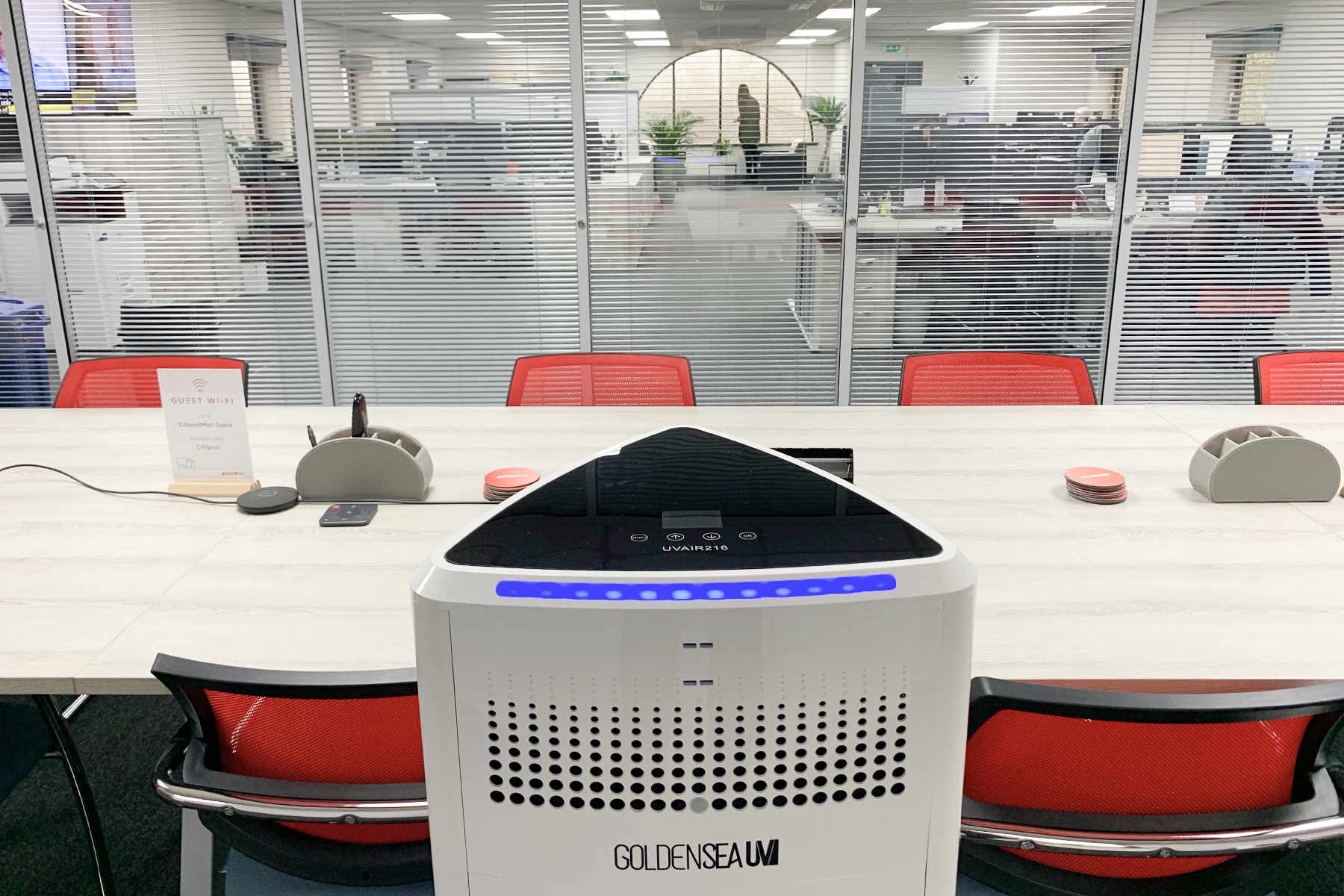 We are pleased to announce that we have invested in two Goldensea UVAIR 216 ultraviolet purification units from Entec UVC SafeClean. We purchased these on the recommendation of our long-time strategy advisor Adrian King, who also happens to lecture on healthcare and medical innovation at Imperial College in London.
We pride ourselves in being a responsible employer and we recognised that in a post-COVID world, we needed to ensure that we are doing all we can to keep our team and visitors safe, healthy, and reassured whilst in the office.
Our Head of Marketing, David Bradford, stated that the benefits of the filtration units were self-evident. "Adrian had been telling us about the importance of these units multiple times, and we discussed how many would be needed for a two-storey building."
Adrian added; "Rob (Citipost Mail MD) and I discussed this extensively over the course of the pandemic, initially looking at an opportunity to provide an outsourcing service for local retail businesses who had to stay open, and then how could we use the technology to protect staff once they started returning to the office. We explored with Entec a number of options but the UVAIR 216 provided the best solution within the budget."
Both of the fully-compliant units are on permanent duty within the building. Each purifies 800 cu.m per hour and runs down to a sound level of just 39dB(A) in quiet mode. "They are run at maximum capacity before and after the working day—including overnight—and at medium capacity during the day as this makes them run more quietly," explains Adrian King. "The admin rooms are 2000 sq. ft which means the air is turned over two times, whereas in the smaller rooms the air turnover will be nearer five times."
The pair of AIR 216s are located in the meeting rooms on each of the floors, which often experience high density occupation, and the remainder of the time are kept running permanently in the general main floor spaces, where there is more natural ventilation and much lower occupancy, due to the hybrid return to work strategy being implemented.
Entec UVC SafeClean's Noreen O'Riordan, added: "More and more operators—within the entertainment industry and beyond—are recognising the need for this type of a solution as part of their safe 'return to work' strategies. We are pleased to be able to offer a quality assured full range of purification and pathogen removal devices to suit budgets and requirements whether to buy or hire."
And David Bradford agreed. "Everybody ought to be considering this type of investment now. These units are silent, unobtrusive and sleek …  really tidy pieces of kit."