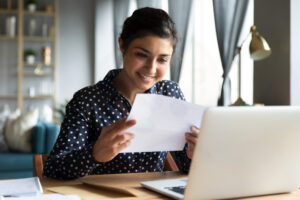 In today's digital age, it's easy to assume that traditional marketing methods like direct mail are not as effective. However, direct mail marketing remains a valuable tool for reaching potential customers, and actually works very effectively alongside digital channels. Here are a few reasons why:
Multi-Channel Campaigns: Direct mail can be used in combination with digital channels to create multi-channel marketing campaigns. For instance, a direct mail campaign can be followed up by a targeted email campaign, a social media advertising campaign, or a search advertising campaign. This approach allows marketers to reach potential customers at different touchpoints and create a more cohesive message.
Personalisation: Direct mail can be personalised in much the same way as email campaigns. By using data analysis and segmentation techniques, direct mail campaigns can be tailored to specific demographics, making it more likely that the mailer will be of interest to the recipient. This can be done in conjunction with personalisation on digital channels, creating a more targeted and effective campaign.
Tracking and Analytics: Direct mail campaigns can be tracked and analysed in much the same way as digital campaigns. By using personalised URLs or QR codes on direct mailers, marketers can track how many recipients visited a specific landing page, providing valuable data for future marketing efforts.
Integration with Digital Channels: Direct mail can be integrated with digital channels to create a more cohesive marketing approach. For example, direct mail campaigns can include calls to action that direct recipients to a specific social media page or website. This creates a seamless experience for the recipient, increasing the chances of engagement.
Reinforcement: Direct mail can reinforce a message delivered through digital channels. For instance, if a recipient has already received an email or social media ad, a direct mail campaign can serve as a reminder of the message, increasing the chances of conversion through a trusted source.
To conclude, while digital channels are excellent for reaching a wide audience, direct mail marketing can work very well alongside these channels. Direct mail can be targeted, engaging, and memorable, and can even drive traffic to digital channels. By integrating direct mail with digital channels, marketers can create a multi-channel approach that is more likely to be successful in today's crowded marketplace.